Photo Credit: Copyright Rob Rosetti
Fitness.com Chats with IFBB BIKINI PRO Heather Nappi 


How did you get started in bikini competitions?

While a full time student in law school, I began to notice that I had put on weight, even though I was going to the gym regularly, and that my eating habits were suffering. I attended my first NPC event in May 2010 which sparked my interest in competing. After seeing what it was all about, I decided to hire a trainer, Nicole Wilkins, and endure three months of contest prep to get me ready for my first show. In three months, I totally transformed my body and lost over 20 pounds. I accomplished this while also a full time law student. Ever since I hit that stage in September of 2010 there has been no looking back, I love it!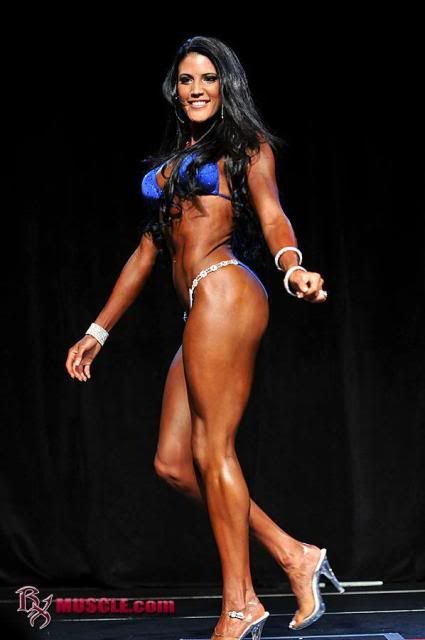 Where does your motivation come from?

When I first began my fitness journey my motivation came from wanting to succeed in this sport and also to become the happiest and healthiest "me" I could. Today, there is also another motivating factor. Throughout my journey I have received so many inspiring and positive messages from friends, family, competitors, aspiring competitors, and my teammates on Team Bombshell. These messages motivate me on a daily basis to train to be the best I can. I appreciate everyone's support! I also try to give back to those that support me and help and support them in any way I can. 

What workout routine has worked best for you?

Personally, the routines that have worked best for me are very high intensity, fast paced training programs whether it is cardio or weight training. In the bikini division, I have to keep a very toned physique, but not an extremely muscular physique. However, weight training is still very important. My weight training consists of a lot of supersetting, high repetition exercises. My trainer has also incorporated plyometrics into my workouts which is great for toning and shaping your muscles and also a great cardiovascular workout. 





If you have to pick only 3 exercises, what would they be and why?

These three exercises would have to be cable kick backs, squats, and shoulder press. In the bikini division, well and probably to most woman, a must have is great legs and glutes. Cable kick backs will help shape and lift your glutes. Squats will also help shape and tone the glutes, but will also hit your quads and hamstrings. I feel that nice round shoulders really compliment a woman's physique and shoulder presses will help accomplish that.

When you use to diet down for a competition what type of cardio did you use? High intensity, Low intensity, or interval cardio? 

No matter if it is my competing or improvement season my cardio is high intensity. It involves a lot of interval training which I have found works the best for me and really helps to shape my physique. 

What supplements do you use? And why?

During my competing and improvement season I take your basic vitamins and minerals such as a multi vitamin, B6, B12, glucosamine, collagen, calcium, magnesium, zinc, etc. I also use Optimum Nutrition's 100% Gold Standard Whey Protein and Nutrex's Lipo 6 Black Ultra Concentrate as a fat burner. When you are dieting sometimes you do not get all of the vitamins and minerals that your body needs, especially when depleting for a show. You want to make sure you are getting these during your contest prep because sometimes there can be extremely bad consequences to your health if you do not use the proper supplement program, if you over train, or if you binge eat after a show. My very close friend Brandan Fokken, a National Men's Physique Competitor, experienced this very harsh and almost tragic situation. Fortunately, he has recovered, competed since his incident, and is looking to hit the stage full force in 2012. If you would like to read Brandan's amazing and inspiring story please go to:http://www.facebook.com/l.php?u=http%3A%2F%2Fwww.worldphysique.com%2Fcompetitorofthemonthdec11%3Freloaded%3Dtrue&h=oAQFCD5EzAQFlYeFb33-_uZzsMou1zS1sCsBSgTHUK1OqJg





What competitors do you look up to and why?

I look up to all competitors, pro and amateur. It takes a lot of hard work, dedication, and guts to get up on stage and present your physique to people you do not even know, let alone have them judge you on it. 
Can you list the major competitions you have competed in since you turned pro and your placing's?
My pro debut was at the Fort Lauderdale Cup where I placed 5th. A few weeks later I did the Iowa Pro, one of the largest pro shows of the year, where I placed in the top 10.

Is there any websites or services you offer that you would like to make our fans aware of?

Yes! If you would like to follow my competition and/or improvement season journey or get some great tips and motivation please check out my fan page on Facebook: http://www.facebook.com/pages/Heather-Nappi-IFBB-Bikini-Pro/102138943218684

In closing, what are your future competition plans? Are you currently preparing for any upcoming shows?

Currently, I am training for the Miami Pro which is December 10th, in FOUR days! I am extremely excited to participate in the last pro show of the season. My future competition plans/goals include earning my invitation to participate in the 2012 Ms. Bikini International and qualifying for the 2012 Bikini Olympia. 

Thanks for your time.

Thank you for this opportunity!!

Photo Credits: Copyright Rob Rosetti & Rxmuscle.com